Westmill Community Wind & Solar Farm Tour
Come for a guided walking tour and see community energy in action!
Experience the scale of the turbines and solar park up close, learn about renewable energy, hear the history of the site and find out about the installation and energy generation of the five turbines and over twenty thousand solar panels.
Our tours are family friendly and are around a mile of walking on easy terrain (may be muddy if wet!).
This event is a collaboration with the Westmill Woodland Burial Ground Open Day running from 2pm-5pm, a short walk from the Wind & Solar Farm.
Tours are kindly provided by volunteer guides on behalf of WeSET – Westmill Sustainable Energy Trust.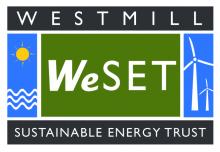 The objective of the Trust is to educate, inspire and promote decarbonisation and sustainable energy through educational activities, community energy initiatives and arts projects.
Event Information:
Date/Time: Sat 15th June - 3:00 pm - 4:30 pm Add to Calendar
Cost: Free
Website: http://www.weset.org/
How to Book: https://www.eventbrite.com/o/westmill-sustainable-energy-trust-17956493704
Eventbrite Link: https://www.eventbrite.com/o/westmill-sustainable-energy-trust-17956493704
Contact: Mim Norvell
One Planet Living Theme: Zero Carbon
Location
Westmill Wind & Solar Farm, Watchfield, Between Oxford and Swindon, SN6 8TH